February 09, 2023
Bold City Battalion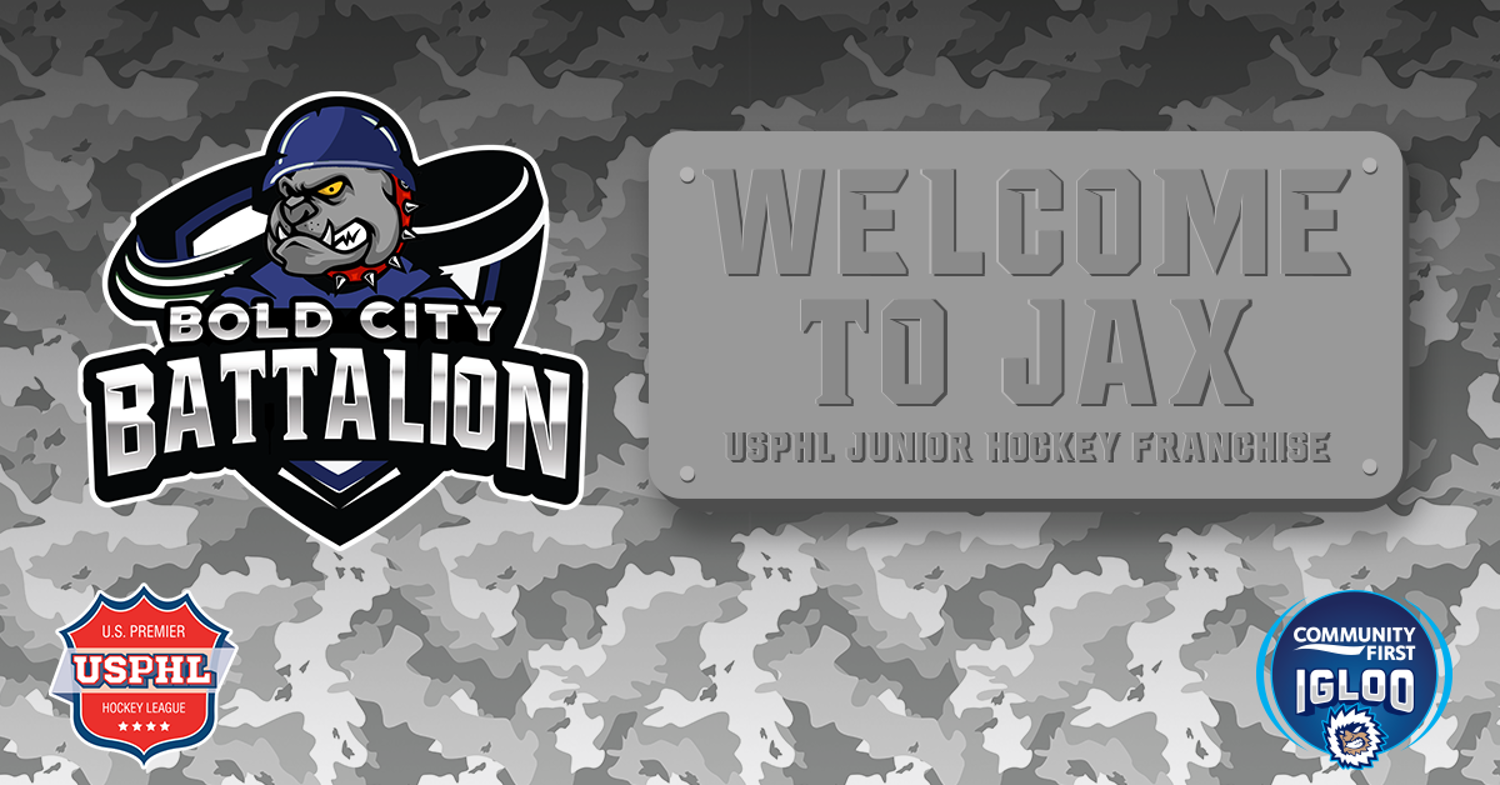 NEW USPHL FRANCHISE EXPANSION IN JACKSONVILLE, FL
Bold City Battalion To Begin Play For 2023- 2024 Season 
The Board of Governors of the United States Premier Hockey League (USPHL) has awarded a new franchise to Jacksonville, Florida on February 1, 2023. The move expands the footprint of the USPHL Premier and Elite programs in Florida to a total of five teams. The announcement was made by the ownership group, led by Ron Kinnear, GM of the PAL Jr Islanders and owner of the Florida Jr Blades, along with Kevin Miller, a motorsport executive and owner of the Florida Jr, Blades and in partnership with the Community First Igloo & Jacksonville Icemen of the ECHL. 
The new USPHL Premier and Elite division teams based out of Jacksonville are scheduled to begin play in September, 2023, with the newly remodeled Community First Igloo Ice Arena, the home of the ECHL Jacksonville Icemen and one of the most modern ice facilities in the Southeast United States. The rink features 2022 renovations including two NHL regulation size rinks, a 200+ seat bar & restaurant, Haymaker Coffee Concession Stand, 2000 sq ft Esports gaming arena, 2000+ sq ft Pro Shop & Team Store, and home of the Jacksonville Sports Hall of Fame. 
The team will be named the BOLD CITY BATTALION, as Jacksonville is home to multiple military facilities, and with Naval Submarine Base Kings Bay nearby gives Jacksonville the third largest military presence in the country. Bold City is a nickname for Jacksonville, and a popular local claim to the City being the largest City by land area in the US in 1968. 
Founded in 2012, the goal of the United States Premier Hockey League is to prepare and develop players for college hockey (and beyond) through a tiered development program. To date, the USPHL has sent more than 2500 players to college hockey in the tens years of existence. 
To send player information to the coach: 
Contacts: 
Hockey: Ron Kinnear  (ronkinn@icloud.com) 
Marketing, Sponsorships: Kevin Miller (kevin@usacnation.com)